Three Must-Have Reminders for an MSB
---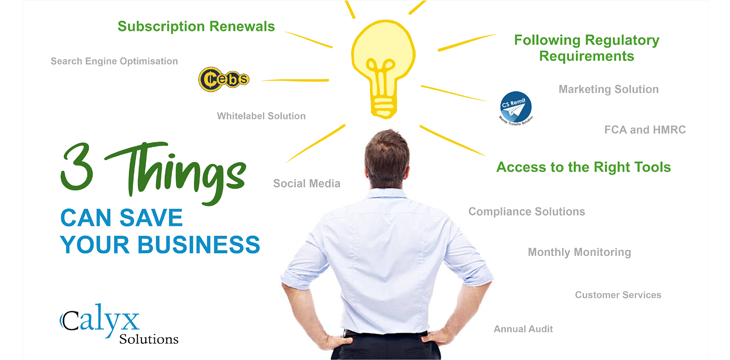 Yes, it's 2023 and you are busy. Being busy is good. If you are new to the business, it is great to have aspirations. But it is very important to have the right tools in place which can make your business operations seamless and let you focus on what you do best.
In any business, there are certain thumb rules of what to do and what not to do. Let's try and think aloud about these thumb rules by dividing them into 3 important sections.
A. Following Regulatory Requirements
1. Tax Returns and Confirmation Statement:
Renewal term: Annual
Checks to be in place:
Every year you need to file your business's tax returns to HMRC. If your business is dormant, still it is recommended to file zero returns.
Confirmation statement is also due every year where Directorship and Shareholding are confirmed to Companies House.
2. FCA and HMRC (For MSBs):
Renewal term: Annual
Checks to be in place:
FCA licence fee is due annually. Based on your supervision/authorisation, the fee varies.
FCA Regdata (previously Gabriel reporting) is a timely reporting requirement where Money Transfer Businesses need to submit the asked information on the portal.
HMRC ECS supervision is an annual renewal too. HMRC charges a £300 per location fee for Principal and Agent locations. This applies to Bureau de Change and Money Transfer Businesses.
Recently, we have observed that the HMRC ECS renewals have taken more than a year and a few businesses have received automated cancellation emails. Calyx Solutions UK Ltd can definitely help you with HMRC ECS registration but this situation can be mitigated and you do not need to reapply. This will save you money, time and business closure distress.
B. Subscription Renewals
There are certain subscriptions and renewals your business requires, but if you forget to renew or your card has expired and the renewal fails, this can cause a stoppage of the service and eventually adversely affect your business. Below is a list of subscriptions which you need to set reminders for:
App Store
App Store's annual renewal is £79 or $99. This is usually linked to your personal Apple ID. If you have a business Apple ID, then it is time to make sure that a valid payment card is linked to this account. Alternatively, you can set an annual reminder and pay.
Domain and Server Hosting
If you own the domain, then please make sure that you have a valid payment card associated with your hosting account. It is important to keep your domain credentials handy. If Calyx Solutions UK Ltd handles the domain and hosting, then we will send the invoice 15 days before the expiry date.
Email Hosting
Google Workspace
Microsoft 365
Zoho Mail
These are 3 popular email hosting providers. Most of them charge monthly and having a valid payment card is important to keep the services running.
Email Marketing Tool
HubSpot or Zoho Campaigns are the tools that Calyx Solutions UK Ltd uses to send bulk emails on your behalf to all your customers. Email marketing by Calyx Solutions is one way to stay in touch with your customers. Zoho Campaigns bills annually, but if the number of contacts increases, then it automatically upgrades to the next level. If Calyx Solutions is taking care of your marketing requirements, then we will send your invoice or send a reminder when renewal is due.
SMS Gateway
Calyx Solutions uses Click Send for its SMS-sending functionality. Whoever you subscribe to, make sure you have a valid payment card linked as most of the SMS gateway providers top-up the account when the balance goes below a certain threshold.
C. Access to the Right Tools
Make a pledge to yourself that you will be more productive than last year. What better way to increase productivity is by subscribing to the right tools? Another way to achieve this is by hiring the right people for the right roles. Calyx Solutions has the right tools and the right people that can be a part of your team to push productivity above and beyond your expectations. Considering ourselves as a team member, we provide our esteemed clients with the services listed below:
1. Whitelabel Solution
CS Remit
CS Remit is a money remittance software aiming to serve small and medium-scale remittance businesses. The software comes as a complete package, the details of which are listed below. This software is best suited for FCA-regulated remittance businesses. This provides hassle-free tracking of customer transfers and statuses of transfers. The software and the mobile apps use data encryption algorithms to store transaction data. FCA and HMRC compliance is strictly followed.
Special features include
Seamless Payment Gateway and Pay with Bank Integrations for pay-ins.
Payout partner integrations including Banks in India, Sri Lanka, and Pakistan.
Mobile app for greater reach and convenience of use
Liveness and Compliance checks with International Sanctions list, PEPs and other datasets. Threshold alerts and ongoing transaction monitoring.
Tech Support is provided via email, Google Meet and WhatsApp.
CEBS
Aiming at servicing Currency Exchange Bureaus that mainly exchange currencies and cash/sell travellers' cheques, CEBS is a multi-currency accounting software. CEBS is user-friendly and fully customisable.
Our development team performed thorough research by interviewing cashiers and managers of Currency Exchange Bureaus across London and came up with software that caters to the needs of both the management and the cashier. The modern techniques used in CEBS make it an excellent tailor-made solution for Currency Exchange Bureaus.
2. Marketing Solution
Search Engine Optimisation (SEO)
This will help your website to come up on the 1st page of Google search engine. Our SEO team will work towards the KEYWORDS provided and make on-page and off-page amendments to your website.
The submissions undertaken include:
Search Engine Submission - Indexing your website to major search engines like google, bing, etc.
Bookmarking Submission - Bookmarking your website on a third-party website to get backlinks.
Directory Submission - It is called a web directory. We store your website information like title, description, and keywords on a third-party website to get backlinks.
Classified Submission - Posting service-based ads to third-party ad posting websites. Example: Olx, Locanto.
Citation Submission - It is called a local business listing or Yellow Pages site. Creating your own business page or listing on a third-party website to get traffic and backlinks.
Social Networking Submission - Posting your service or product details on social networking sites to generate backlinks. Example: Facebook, Instagram
Meta Tags - Meta tags are snippets of code that tell search engines important information about your web page, such as how they should display it in search results. They also tell web browsers how to display it to visitors.
Social Media
An active Social Media handle shows your customers that you are available when they need you. Increasing your followers on social media will help you to generate more as well as will help brand awareness.
Blogs
To drive organic traffic to your website, it is suggested to write blogs.
What exactly will a blog do? - It will be a neutral informative write-up posted on your website which will provide information to customers on current affairs, to-do tips or almost anything and everything related to your business sector. SEO related keywords will be included in the blog.
This will bring in footfall to your website and help in uplifting the ranking.
Newsletter
Newsletters help you make your brand stand out. Your roadmap to the future starts with email communication with existing customers. Whether it is an offer or a company announcement, the newsletter can be categorised as per the customer type.
3. Compliance Solutions
Monthly Monitoring
The monitoring involves threshold limit monitoring and linked transaction monitoring.
If someone is crossing the threshold limit, we will check the valid documents.
Includes Sender and Beneficiary thresholds and documentation.
Internal SARs will be checked and assistance will be provided if SAR needs to be submitted to NCA.
Additionally an Insight report will be provided which will give you an understanding of customer behaviour and help you decide your marketing strategies.
Annual Audit
Our Compliance audits are specially designed to assess:
The level of business to understand money laundering and terrorist financing
Business training programs for staff to conduct CDD and EDD measures
Competency of staff in reporting Suspicious Activities
How IT system works and finding out key improvement areas in system
Transactions monitoring process and record keeping of transactions
Customer complaint handling procedures
Overall Compliance PSR 2017, Money Laundering, Terrorist Financing and Transfer of Funds (Information on the Payer) Regulations 2017, Proceeds of Crime Act 2017 and Terrorism Act 2000.
Customer Services
As a customer service provider for its clients, Calyx Solutions recruits one dedicated customer support representative for each subscribed client. This representative will be responsible for:
Attending phone calls from 8 am to 4 pm UK time
Providing chat support via WhatsApp
Ensuring all WhatsApp messages are responded to within five minutes between 8 am and 4 pm UK time
Forwarding bank-related queries to the relevant point of contact provided by the client.